---
2019-07-27
2019 - POETRY, WAY, MYTHS
The summer workshop of the Budil Theater School ROOTS OF CREATION ended with a public presentation of the results of the weekly production. The performances were created under the guidance of BTS lecturers in cooperation with NATURE - the whole workshop took place in the bosom of nature, without electricity, without mobile phones, all natural.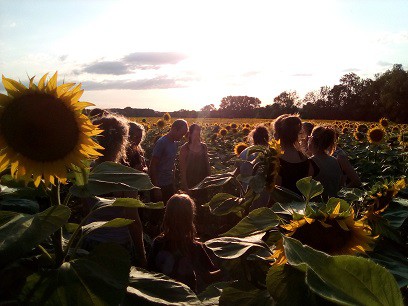 photo BTS archiv
The participants of the workshop used the space in the immediate vicinity for their performances, so the spectators traveled for experiences from place to place. Already during the welcome of the spectators by the director of BDŠ Vendulka Burger-Budilová, we were able to watch the warm-up of the actors with bamboo poles based on the Jacques Lecoq method. Immediately afterwards, the place of production changed and we saw POMERANČE (ORANGES) - an unrestrained conception of poetry under the direction of Eva Hrubá. The performance CESTA (WAY) was created from working with Veronika Vaculíková, the sonic accompaniment resulted from a work with Ridina Ahmedová. At the initiative of Tomáš Běhal, a site-specific "4x Myth of Origin and Extinction" was created, in the final form of which all lecturers already participated: OKNA (WINDOWS) / SLUNEČNICE (SUNFLOWER) / VRBA (WILLOW) / TŮNĚ (POOL). (The POOL performance was played until night in its unique "single spectator performance.") Vendulka Burger-Budilová supervised the whole evening.
Satisfied spectators stayed in large numbers for the following SAUSAGE-PARTY - some (even with children) then went home on bikes, those who brought a tent rejoiced by the fire long after midnight.