---
2018-08-11
2018 - Madness
Public closing performance of the participants of the Summer Weekly Workshop of the Budil Theater School FROM INSPIRATION TO CREATION in the premises of the Citadel Studio in Prague.
The result of a weekly creation of a completely new team, which in most cases first met the unique method of Jacques Lecoq (led by the founder and director of BTS Vendulka Burger-Budilová), found a place to meet his own voice (techniques of Ridina Ahmedová) and used the choreographic language of the Indian kathak dance technique (with Anežka Hessová).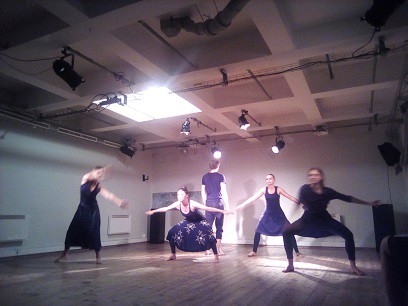 photo BTS archive
Why go this route to find authentic creation?
Figure out how we can create things from our own experience spontaneously, in the game and in practice without unnecessary thinking. Know the techniques, but also the joy of being able to play and enchant with the discovered and learned schemes right away. Creation is something that cannot be learned and there is no recipe for it - it is a way of searching, groping, getting lost and rediscovering a thousand times discovered. Know that the same thing will not be the same through each of you. Discover the creative power of the group. Look for clues to find the whole world in a small drop of water.