---
2016-06-17
2016 - Paintings of the Svídnice chronicle / Live paintings of Svídnice
About the people and houses of Svídnice from the records of the Svídnice chronicle
Premiere June 17, 2016, old school Svídnice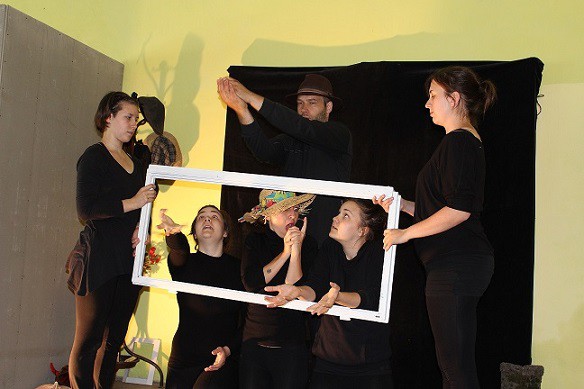 foto Nadace VIA
The former pub with a hall (in which amateur theater was already played in the 1920s), but also the wide surroundings of the rural environment, has been serving as a BTS residence outside Prague for a year. It is therefore obvious that the students gave space in their work to the offered inspiration. This created a comprehensive performance presented not only at various rural events in the Central Bohemian Region, but also in Prague and theater festivals.
The performance was created on the basis of a study of records from local chronicles, especially from the memories of Prof. Kubálek for the period around 1880. The language of the production is playfulness, movement and manipulation with objects. The production was created as part of the Living Chronicle project, which was financially supported by Poštovní spořitelna through the Via Foundation in 2016.
From feedbacks:
"The vivid images of Svídnice translated the local chronicle, including the memories of Professor Kubálek, into a spoken form. The history of one village family after another took place in front of the audience as plastically as if they were experiencing it directly with the inhabitants of Svídnice."
"One does not expect to come across Art in a remote Central Bohemian village… The processing of the Images of the Living Chronicle was beautiful - it seemed to me as if I knew all the inhabitants."
"Thank you for a nice experience and I am glad with what respect you approached the materials of Prof. Kubálek."