---
2016-06-17
2016 - Aunt Julie
How did the theater in the hall of Mr. Košátka's pub form?
Premiere June 17, 2016, old school Svídnice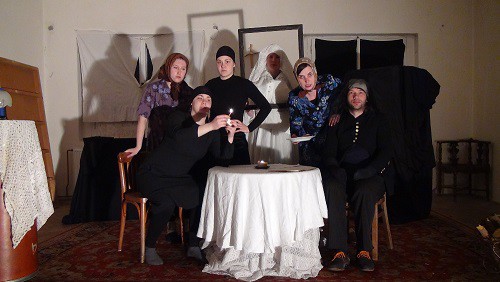 foto by Tomáš Strejček
In June 2016, students of Budil theater school were given a unique opportunity to create in a space where amateur theater was performed at the beginning of the 20th century.
Thus, a production loosely inspired by Zdeněk Jirotka's radio play was born, which is the result of an attempt to reconstruct the amateur efforts of this period, including the search of an actor's interpretation of the text.
The performance with horror elements premiered an hour before midnight.
In February 2017, students played this performance at the Modrý kocour festival in Turnov.
From feedbacks:
"I really appreciate how you work with the history and genius loci of the place in your performances."
"I had a lot of fun with Aunt Julie, it was a relaxing comedy made with humor and irony, and the young actors played with enthusiasm."