---
Vendelín Budil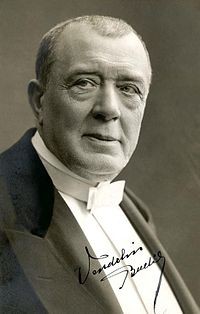 Born on 19.10.1847 and died 26.3.1928
- Czech actor, director, theatre historian and translator
- Founder of the acting families Steimar and Kodet – grandfather to important Czech actress and teacher Jiřina Steimarová, who prepared actors and directors, such as Radek Holub and Filip Renč. Great-grandfather of Czech actors Evelýna Steimarová and Jiří Kodet. Great-great grandfather of Vendulka Burger, founder of the Budil theatre school.
- worked as an actor in various theatres such as the momentary theatre
- in the years 1887 to 1900 he led his own theatre group
- in the years 1889-1891, 1895-1900 a 1902 to 1912 was director of the town theatre in Pilsen. His period as a director is connected with the opening of the new municipal theatre in Pilsen (now the grand theatre). He developed dramatic, opera and ballet companies, under Budils leadership the theatre played an average of 348 performances a year.
- He staged the play cycles by J. K. Tyl, Jiráseks dramatic work, the work of J. Vrchlický, J. Zeyer, from international dramatists W.Shakespeare
- His most internationally renowned role is King Lear from Williama Shakespeare
- Other roles: Macbeth, Richard III., Falstaff in the merry wives of Windsor (W. Shakespeare), Jan Žižka (A. Jirásek), Luka (M. Gorkij, Na dně/На дне), Cyrano de Bergerac (E. Rostand)