---
2019-04-30
Ridina Ahmedová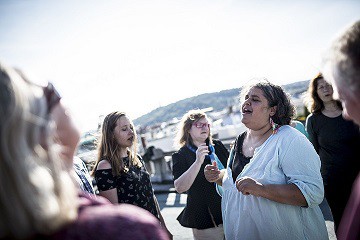 Ridina Ahmedová is a singer and composer
Next to solo concerts, she plays in duo with the double bass player Petr Tichý as "HLASkontraBAS"
She is a part of the interactive a capella performace for the audience and three singers, Tell me.
She is giving voice workshops, she is the leader of Hlasohled - the centre of work with the human voice.
photo by Vojtěch Brtnický
She is also the author of the Zpěvomat (Sing o mat) project, bringing live singing to the urban public space.