---
2021-11-01
Ivana Hessová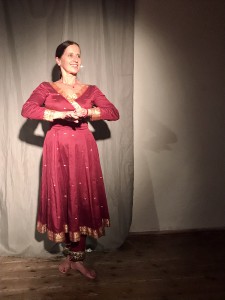 Graduate of the DAMU Department of Puppetry in Prague.
From 1992 to 1996, she lived in Switzerland, where she worked at the Montreurs d´Images theater and participated in many projects in its mobile theater tent. She also began studying Kathak, a classical dance of northern India, in Geneva. Study stays in India: 1997 (Varanasi), 2001 (Bangalore), 2006-2008 (Kolkata). In 2002, she founded the dance-music group Damaru, with which she performs at many festivals (including the Karlovy Vary IFF, Alternativa and Ethno Brno, One World, Febiofest, Ferrara - the international festival of Italy). She collaborates with outstanding Indian artists (Sandip Mallick, Amit Chatterjee), with many Prague theaters (Divadlo Komedie, Strašnické divadlo, Archa Praha, Divadlo Kampa), organizes workshops (Prague, Capuchin Monastery Mnichovo Hradiště), realizes dance and theater performances (Indian inspiration, For Phoolan, Gypsy Suite, I want me to live). She is also involved in children's theater. She works at Studio Citadela.
photo from the archive of I.H.