---
2015-06-21
2015 - BOUFFONS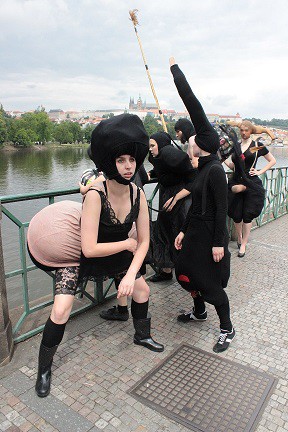 On June 21, the students of the Budil Theater School became part of the prestigious international exhibition of scenography and theater architecture at the Prague Quadrennial 2015. They became one of the groups of Tribes for which BDŠ was selected by strict selection in December 2014. After several months of preparation as part of the BTS study, the students and their teachers created the distinctive OUTCIDRE tribe, the Bouffon à la Jacques Lecoq tribe, as a living and moving installation.
This tribe represents a family of fermented human vices. It mirrors to passers-by what swells, ferments and rots in our society. Outsider - Out-Cider. The Bouffons, who walked in full operation through the streets of the capital, are not evil, they just set up a mirror for us with exaggeration. For Budil's theater school, it was a 100% fulfillment of the theme of the 2014-2015 school year, the theme of ADVERTISING.
The Bouffon tribe appeared to society throughout the country several more times - always evoking joy or questions or thoughts.
photo by Tomáš Strejček